product_id = 1906111676475variant_id = 18936038719547template_name =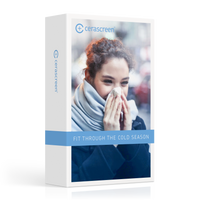 About

About the product

The cerascreen® Bundle Fit through the Cold Season helps you identify any deficiences of immune-strengthening nutrients so you can keep your immune system fighting strong throughout the cold season.

Adults suffer up to four times a year from a cold. Especially during winter, the dropping temperatures can weaken your immune system. This makes you more prone to illnesses, especially colds. Dry, heated air and contact with sick people increase the risk of catching a cold or the flu.

Sufficient supply of certain nutrients will help enable your immune system to combat viruses and bacteria.

The trace elements magnesium, zinc and selenium strengthen your immune system and protect your cells from inflammation. A lack of vitamin D or iron increases your susceptibility for infections. Iron and vitamin D deficiency are amongst the most common diet-related deficiency diseases worldwide.

Bundle Fit through the Cold Season

The cerascreen® Bundle Fit through the Cold Season helps you to protect your body during the cold season and stay healthy. Adults suffer from colds up to four times per year, which may be caused by insufficient supply of nutrients.

The bundle contains the following three tests:

This is how it works

1. Test at home

Your test kit contains everything you need to draw a small sample of blood from your fingertip. Then send the sample back to us free of charge in the enclosed return envelope.

2. View results online

After the evaluation in the medical specialist laboratory, you will have online access to your personal result report.

3. Act

Your access to the test results and the evidence-based findings and tips to improve your health: the my cerascreen® user profile on our website or our app.