product_id = 6622971297851variant_id = 39499037769787template_name =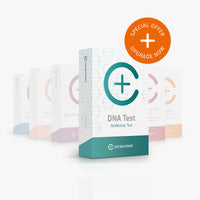 About

About the product

If you have already taken one of the five cerascreen® DNA tests, we can perform further DNA tests with your saliva sample. Find out even more about your genes – and thus what you can do to boost your health even further!

You will then receive a results report for one or more DNA tests from our range of products – without having to collect further samples and at an impressive price!

DNA Bonus Package

You can order the following tests in addition to your DNA test:

Please note: This offer is an additional product that you can only claim if you have already purchased one of the tests mentioned above. Select the additional product you would like to book in the following menu:

Questions

Frequently asked questions about the product

When can I order the DNA Bonus Package?

This offer is valid for customers who have already purchased one of the five DNA tests from cerascreen®. If you are one of these people, you can buy additional DNA tests at a significantly reduced price.

Our medical partner laboratory will analyse the data from the same sample that you took for the original DNA test you ordered.

The following tests can be combined with each other via our DNA Bonus Package:

DNA Metabolism Test
DNA Fitness Test
DNA Skin Test
DNA Heart Health Test
DNA Vitamin Metabolism Test

How do I order the DNA Bonus Package?

Simply purchase one of the bonus packages. You will then receive an email with a test ID that you can activate via your my cerascreen user account or the my cerascreen app. That's all you need to do - as soon as the sample has been analysed, you will automatically receive your personal results report.

If you want to book several bonus DNA tests, that's not a problem: simply add as many of the bonus packages to your shopping basket as you like, as if you are buying multiple products. The tests can then all be carried out using the analysis of your original saliva sample.

How long after the first booked DNA test can I use the bonus package?

You can actually book the DNA Bonus Packages at any time! Our partner laboratory records the gene variants relevant to the tests for all DNA saliva samples. The data can then be investigated for further analyses later on.

Have you already purchased one of our DNA tests? You can purchase the bonus packages and discover even more about your genetic background.

What does the results report tell me?

For each bonus package you order, you will receive a separate results report. The report will give you clear and understandable results.

For the DNA tests, our partner laboratory analyses very specific genes in each sample and searches for variations to these genes. The results give you an indication as to whether you have certain tendencies or not - these could be, for example, risks of developing certain diseases, increased nutritional requirements or sports that are particularly suitable for you.

Why are children under 18 not allowed to take the test?

Our tests are not suitable for underage children and adolescents under the age of 18. Under 18s cannot activate the tests online and therefore cannot receive a test result. We ask that you do not administer the tests to your children either.

Children and adolescents need much closer supervision and counselling regarding medical tests and their interpretation. Testing with lancets and chemicals is not without risk and would need to be closely supervised by guardians. In addition, the reference values we give are always based on adult data. In the case of children, the risk of misinterpreting the results would be very high.

We want to fulfil our responsibility as a provider of medical products and ensure that children and adolescents are not unsettled by measurement results that are difficult for them to interpret. Since we cannot control whether the minors' legal guardians actually consent to the test being carried out and supervise them, we exclude tests for under 18s altogether.

If you are under 18 and have purchased a test, please contact our customer support.

Why does it take up to a week for the sample to reach the lab?

 

Please bear in mind that your results will not be analyzed in the UK but in Germany. For that reason, it can take up to a week for the sample to arrive at the lab. This does not affect the stability of the samples, as the method we are using is optimized for long transports.

Initially, your sample is sent to our collection center in the UK. From there, it is shipped to our central sample sorting facility in Germany, which then distributes samples to our partner laboratories. Once your sample is analyzed there, you will receive a notification and can access your result online.

Please check your mailbox regularly. We will notify you as soon as your sample is sent, arrives, or is analyzed.

This is how it works

1. Test at home

Your test kit contains everything you need to take a small saliva sample. Then send the sample back to us free of charge in the enclosed return envelope.

2. View results online

After the evaluation in the medical specialist laboratory, you will have online access to your personal result report.

3. Act

Your access to the test results and the evidence-based findings and tips to improve your health: the my cerascreen® user profile on our website or our app.