product_id = 5089528807483variant_id = 34376226537531template_name =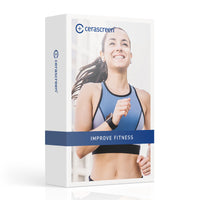 About

About the product

The Improve Fitness Test Bundle consists of two cerascreen® health tests that will help you improve your fitness and athletic performance: the Amino Acid Test and the DNA Fitness Test.

Fitness enthusiasts have long been aware that athleticism is not just a result of exercise. Nutrients, sleep, choosing the right type of exercise - there are numerous factors that influence your athletic performance. These include your genetics, which determine your athletic potential, endurance type and muscle fibre (twitch) type. Your intake of amino acids is also relevant; these are crucial for your muscle strength.

Improve Fitness

Enjoy convenient and easy sample-taking from home (saliva and blood sample)
Save time: no doctor's appointment, no waiting time
Receive tips and recommendations about fitness and your amino acid levels, based on your genetics
Get your results within three weeks after the sample's arrival in the laboratory

Questions

Frequently asked questions about the product

How does the test work?

The Improve Fitness Test Bundle contains two cerascreen send-in sample kits:

A blood sample kit for the Amino Acid Test
A saliva sample kit for the DNA Fitness Test

The kits contain everything you need to take a blood sample from your fingertip and a saliva sample for your oral mucosa. Next, send in your samples with the return envelope to be analysed in a specialised medical laboratory.

As soon as your samples have been analysed in the laboratory, you will receive a notification via email and via the My cerascreen app. You can then download your results report in the app or by logging in on our website.

What does the results report show me?

The results report will give you a clear and comprehensible analysis of your test results.In this test bundle, you will find out:

Your values for 26 amino acids in nanomoles per millilitre of blood
Your predisposition to the following: tendency to develop oxidative stress, muscle loss, your endurance type and your muscle fibre type

Which recommendations will I receive?

The two results reports will give you recommendations you can easily implement in your everyday life. From your DNA analysis, you will find out how you can optimise your amino acid levels through your diet and personalise your fitness routine to suit you.

For example, by taking the DNA Fitness Test, you will find out which muscle type you are likely to have – that is, if you possess slow-twitch, medium-twitch or fast-twitch muscle fibres. Your muscle fibre type can give you an indication of whether you tend to perform better in endurance sports or in weight training.

Moreover, you will receive access to additional informative material, in which we will explain to you the links between your test results and your fitness and give you further tips to use in your everyday life.

For whom is the test not suitable?

The test bundle is not suitable for or is only suitable for particular groups of people to a certain extent:

People with contagious diseases, like hepatitis or HIV, are not allowed to take the tests.
People with blood disease (haemophilia) should not take the tests.
Pregnant or breastfeeding women should only carry out the tests under medical supervision. The reference values and recommendations do not apply to them, so they should obtain recommendations on the test results from their doctor.
The tests are not suitable for children under the age of 18 years.

The tests are not intended for diagnosing diseases. For example, if you are obese and suffer from acute pain, you should consult a doctor.

Why are children under 18 not allowed to take the test?

Our tests are not suitable for underage children and adolescents under the age of 18. Under 18s cannot activate the tests online and therefore cannot receive a test result. We ask that you do not administer the tests to your children either.

Children and adolescents need much closer supervision and counselling regarding medical tests and their interpretation. Testing with lancets and chemicals is not without risk and would need to be closely supervised by guardians. In addition, the reference values we give are always based on adult data. In the case of children, the risk of misinterpreting the results would be very high.

We want to fulfil our responsibility as a provider of medical products and ensure that children and adolescents are not unsettled by measurement results that are difficult for them to interpret. Since we cannot control whether the minors' legal guardians actually consent to the test being carried out and supervise them, we exclude tests for under 18s altogether.

If you are under 18 and have purchased a test, please contact our customer support.

Why does it take up to a week for the sample to reach the lab?

 

Please bear in mind that your results will not be analyzed in the UK but in Germany. For that reason, it can take up to a week for the sample to arrive at the lab. This does not affect the stability of the samples, as the method we are using is optimized for long transports.

Initially, your sample is sent to our collection center in the UK. From there, it is shipped to our central sample sorting facility in Germany, which then distributes samples to our partner laboratories. Once your sample is analyzed there, you will receive a notification and can access your result online.

Please check your mailbox regularly. We will notify you as soon as your sample is sent, arrives, or is analyzed.

This is how it works

1. Test at home

Your test kit contains everything you need to draw a small sample of blood from your fingertip. Then send the sample back to us free of charge in the enclosed return envelope.

2. View results online

After the evaluation in the medical specialist laboratory, you will have online access to your personal result report.

3. Act

Your access to the test results and the evidence-based findings and tips to improve your health: the my cerascreen® user profile on our website or our app.