product_id = 184304369683variant_id = 1179073871891template_name =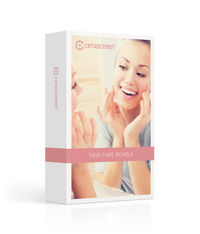 About

About the product

Undiagnosed food intolerances can lead to unclear skin, and histamine intolerance can lead to various skin disorders. On the other hand, a healthy vitamin D level can help maintain healthy and firm skin.

Home test kit
Vitamin D supports in numerous bodily functions
Food allergies or a histamine intolerance can cause skin irritations
Eliminating these factors will make your skin shine

Skin Care Bundle

The Skin Care Bundle contains the following tests:

This is how it works

1. Test at home

Your test kit contains everything you need to draw a small sample of blood from your fingertip. Then send the sample back to us free of charge in the enclosed return envelope.

2. View results online

After the evaluation in the medical specialist laboratory, you will have online access to your personal result report.

3. Act

Your access to the test results and the evidence-based findings and tips to improve your health: the my cerascreen® user profile on our website or our app.