product_id = 1905990500411variant_id = 18935255695419template_name =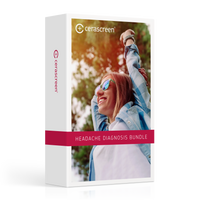 About

About the product

According to the WHO (World Health Organization), it is estimated that 25 million work or school days are lost in the UK due to headaches alone. Headache, apart from back pain, is the most common health complaint.

Nearly everyone has a headache occasionally, but when they occur repeatedly, they are a symptom of a headache disorder. In developed countries, headaches affect over one third of men and more than half of women.

According to the WHO, migraines are also very common—affecting at least 1 in every 7 adults in the world. Migraines are up to 3 times more common in women than men. Women are affected three times more often than men.

Is your daily life affected by headaches? Are you very sensitive to noise and thus tend to stay at home? Are your private and social lives being impaired by headaches?

Apart from back pain and stress, a nutrient deficiency can also cause a headache. Therefore, it is possible to relieve your symptoms with the right diet. Nutrient deficiency or food intolerances are a common cause of headaches.

Headache Diagnosis Bundle

The kit contains the following tests:

This is how it works

1. Test at home

Your test kit contains everything you need to draw a small sample of blood from your fingertip. Then send the sample back to us free of charge in the enclosed return envelope.

2. View results online

After the evaluation in the medical specialist laboratory, you will have online access to your personal result report.

3. Act

Your access to the test results and the evidence-based findings and tips to improve your health: the my cerascreen® user profile on our website or our app.