product_id = 184299487251variant_id = 1178890829843template_name =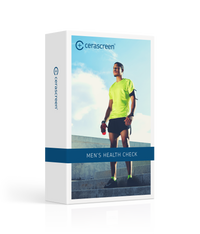 About

About the product

Optimal men's health can be secured by sufficiently high testosterone levels.

The Cerascreen® Men's Health Check helps ensure good health and provides support in case of a deficiency!

Men's Health Check

As men get older, testosterone levels begin to decline—starting at the age of 30. Testosterone is the most important male sex hormone.

The hormone testosterone contributes to the following body functions:

Production of red blood cells
Development of male sex organs
Sperm production
Bone growth
Performance
Muscle Growth

Studies have shown that the 'sunshine vitamin,' vitamin D can increase your testosterone levels. Therefore you should pay attention to your vitamin D level.

Not only does vitamin D increase testosterone levels, but it also prevents osteoporosis, lowered immunity, muscle pain and poor physical and mental performance.

To ensure male health, vitamin D and testosterone levels should be checked regularly.

This is how it works

1. Test at home

Your test kit contains everything you need to draw a small sample of blood from your fingertip. Then send the sample back to us free of charge in the enclosed return envelope.

2. View results online

After the evaluation in the medical specialist laboratory, you will have online access to your personal result report.

3. Act

Your access to the test results and the evidence-based findings and tips to improve your health: the my cerascreen® user profile on our website or our app.